Erissery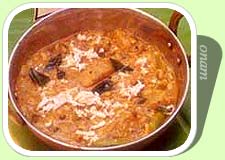 It is made of raw plantains and Yams sliced and boiled in water with salt and chillies or pepper added. The pulp of the coconut is ground with a little cumin seed added to it. When the whole thing is properly boiled, a few mustard seeds along with scraped coconut pulp fried in coconut oil, is added in to it to give it flavour. Erissery is also made with pumpkin and red oriental beans, the recipe is given below.
Erissery With Yam
Ingredients:


Yam cut into small pieces 60gms
Big raw banana 1 no
Pepper powder 1tsp
Turmeric powder 1/4tsp
Water 1cup
Salt to taste
Grated coconut 1/2coconut
Cumin seeds a pinch
Ghee 10gm
Coconut oil 1tbs
Mustard seeds 1/4tsp
Method:
Split the banana lengthwise into 3 pieces. Do not peel the skin. Cut it into small pieces.
Boil yam and banana with pepper powder, turmeric powder and salt in 1 cup of water. Grind one fourth quantity of grated coconut and cumin seeds together and add to it.
Grind the remaining coconut and saute in a low flame till brown in colour. Keep it aside.
Season mustard seeds in ghee. Add the coconut oil, seasoned mustard seeds and the sauted coconut to the vegetable mixture. Mix well.