Pineapple Pachhady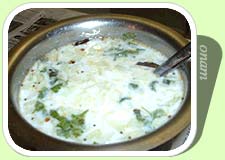 Ingredients:
Ripe pineapple cut into 2cups
1/2" square pieces
Turmeric powder 1/2tsp
Salt to taste
Grated coconut 1 cup
Dried red chilli 1
Coconut oil 2dsp
Mustard seeds 1/2tsp
Dried red chillies 3 (cut into 6 pieces)
Curry leaves 1sprig
Crushed mustard 1tsp
Method:
Boil pineapple, with turmeric and salt in 1/2cup water. Grind coconut with dried chilli to a fine paste.
Heat the oil and season with mustard seeds. Saute the coconut paste and add the curry leaves and dried red chillies. When it is done, add the boiled pineapple pieces. The gravy should be thick and the cover the pineapple pieces. Add the crushed mustard just before removing the pachhady from fire.