Visakam - Day Four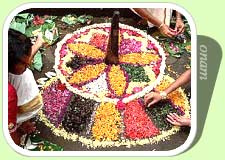 VisakamVishagam or Visakam

is the fourth day of the Onam festivities. As the number of days left for the big days are very few now, excitement becomes palpable amongst the people of Kerala. Brisk activities in the market and households can be witnessed on the day of Visakam.
Women who have to prepare the elaborate meal of Onasadya on Thiruvonam, gets engaged in the prior preparations on Visakam. Making of various types of pickles and pappadams (papad) besides various other things begins now.
Girls engage themselves in making new designs for Pookalam with flowers of different colours and shapes. It is an endearing sight to watch women dressed in their traditional attire working on the Pookalam. They sing and make merry as and at the same time give shape to their creativity. Pookalam designing competitions are also organised at various places. These are extremely popular in Kerala and witness a participation of large number of designers and onlookers.



Athapoovu Competetions


An integral tradition of Onam, Pookalam has come up as an art form. Competitions for decorating Pookalams are organised all over the state. Creativity of the designers is unleashed through such competitions as they come up with innovative designs each year