Moolam - Day Seven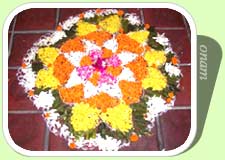 Moolam is the seventh day of the festival of Onam which continues for ten days. With just two days left for the festival now, enthusiasm grips the state of Kerala. Bright colours of the festivities can be seen in commercial areas of the state where the shops are loaded with goods and people are jostling for a space. There is hustle and bustle everywhere as excited people do their last bit of shipping. What is even more apparent on the faces of millions of people of Kerala is the spirit of joy and happiness. People get the feel that the time to meet their Onathappan has just come. A year long wait is going to be over and there will be celebrations all around.
Pookalam is made in a new design with
kondattam
(gaiety) on this day with the most beautiful flowers. For Maveli is coming and there is mirth all over.

Thumbi Thullal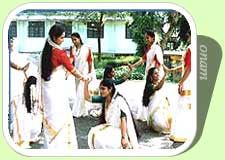 Thumbi Thullal is a fascinating all women dance and singing event performed in Kerala on the occasion of Onam. While men engage themselves in energetic sports, womenfolk perform Thumbi Thullal and have their share of fun.
Wearing their best sarees, stunning jewelery and fragrant gajras, a group of women sit in the formation of circle to play Thumbi Thullal. In the centre of the circle sits the main performer.
Lead singer initiates a song in her melodious voice by singing the first couplet which is taken up by other women. The sequence continues song after song with the lead singer initiating the couplet every time followed by a chorus from other women. Joyful clap dance also goes on in rhythm with the singing.
It is a colorful spectacle to watch women in their carefree mood. The event continues amidst jeers and laughter till the day comes to its end.