Banana Halwa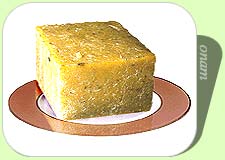 Ingredients:
Nutmeg ground 1/2 tsp
Pure Ghee 1 tablespoon
Bananas (ripe, peeled and mashed) 3 (medium)
Sugar 1 cup


Method:
Heat ghee in a heavy pan. Add bananas and cook over low heat, stirring to prevent the mixture from sticking. Cook for 10 minutes, or until bananas have browned and resemble soft toffee. Add more ghee as necessary.
Add sugar and continue stirring until dissolved.
Add nutmeg and cardamom; remove from heat.
Spread halwa into a deep, large plate. Allow it to cool and cut into squares.