Kootukari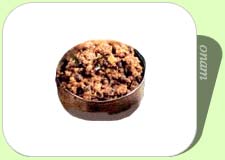 In this curry, a miscellaneous variety of vegetables and some Bengal gram are used. The difference between this and 'Aviyal' is that no tamarind is added.
Ingredients:
200 gm: Kadala Parippu (Chena dal)
Vegetables - 200 gm each: Chena, Banana (Pacha Nendrakaya), Mathan, Carrot ( all cut into small pieces)
Spices: Mulakupodi, Manjalpodi, Kurumulakupodi, Jeerakam, Kaduke (mustard seed), Vattal Mulaku & Karuveppila
1 no: Cocunut
2 tsp: Coconut Oil

Method:
Cook Chena Dal and then add vegetables along with Manjalpodi, Mulakupodi and Kurumulakupodi as per requirement.
Cook for 15 minutes.
Grate and grind the coconut with jeera and add to the curry and cook well. Add salt.
For tadka - put mustard seeds, vattal mulaku and Kariveppila in two spoon coconut oil and pour this into the curry. Delicious Kootukari is ready.
Kootukari can be served with rice or roti /chappathi.