Thiruvonam - Day Ten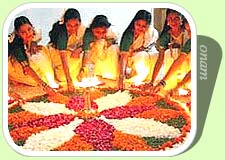 Thiruvonam Aashamsakal !
The enchanting state of Kerala reverberates with the chants of Onaashmsakal, "To everyone, Onam Wishes" as people exchange warm greetings of the occasion on the tenth and the most important day of the carnival of Onam. People believe that it is on Thiru Onam that the spirit of legendary King Mahabali visits the state of Kerala.
Activities begin early in the morning. People clean their house, take early bath, wear new clothes and participate in special prayers organised in individual homes and then in local temples. Later a very special and the biggest of all days Pookalam is prepared to welcome Maveli. Clay mounds in the shape of pyramids representing Lord Vishnu and Mahabali are prepared and placed in front of the Pookalam.
In the noon the grand feast of Onam called Onasadya is prepared. The strictly vegetarian meal consists of 11 - 13 mandatory dishes and is served on a banana leaf. The eldest member of the family presents gifts and new clothes to the family members.
Various cultural events are organised all over the state to mark the day. Dances, games, shows and get together are the other highlights of the day. Patassu (fire crackers) are also burnt to celebrate the occasion.
There are some rituals also marked for the eleventh and twelfth day called
Avittom
and
Chatayam
or Chathayam respectively. But the major celebrations get over on the tenth and the most important day of Thiruvonam.


Kalan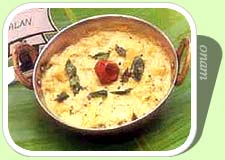 It is a preparation of buttermilk with thick gravy. Sliced plantains known as nenthra-kaya and yams (chena) are boiled in water with salt and chillies. Buttermilk mixed with ground coconut pulp is poured in proper time and the preparation is flavored by the addition of mustard, fried in coconut oil.
Ingredients:

Yam sliced into small pieces 100gm
Small raw banana 1no
Green chillies (slit the edge) 3nos
Mashed yogurt (without water) 1/2litre
Grated coconut 1/2quantity
Cumin seeds 1/2tsp
Pepper powder 1tsp
Water 1cup
Turmeric powder 1/4tsp
Salt to taste
Fried and powdered fenugreek 1/2tsp
Ghee 3tsp
Dried chilli (split into 2) 2nos
Mustard 1tsp
Ghee 1tsp
Curry leaves 1sprig

Method:
Remove the skin of the plantain and slice it into small pieces.
Grind the coconut and cumin to a smooth paste without adding water. Keep it aside.
Dissolve the pepper powder in 1/2cup of water and strain it through a clean cloth. Cook the vegetables in this water. Add the turmeric powder and salt. Stir well. When the water dries, add 1tsp ghee. Pour the yogurt and mix well. Lower the flame. When the curd boils and becomes dry and thick, add the grinded coconut mixture and fenugreek powder into it. Stir well. Brings to a boil and remove from fire. Season with mustard, dried chillies and curry leaves.




WISH

ALL

THE

READERS

A

HAPPY

ONAM