Uthradam - Day Nine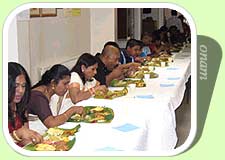 Utradam or Uthradam is the ninth and the penultimate day of the festival of Onam. There is jubilation all around as people prepare to welcome the spirit of King Mahabali. In some regions of Kerala festivities of Onam starts in a full fledged way from Utradam itself. It is a public holiday on that day. Some people also call Utradam as the first Onam and the next day Thiru Onam as the second Onam.
On the day of Utradam tenants and dependents of Nayar Tarawads (traditional large joint families sharing a common kitchen) bring produce of their farms or the product of their toil to the Karanavar (eldest member of the Tarawad). These gifts from the tenants to the Karanavar are called Onakazhcha. Karanavar greets these people warmly and treats them with a sumptuous meal on Thiru Onam. Village artisans also bring their handicrafts to the Karanavar and are graciously rewarded.
Houses are cleaned up on this day and people get charged up to participate in the events to take place on the following day. Pookalam is given a nice design with new and special flowers on this day.