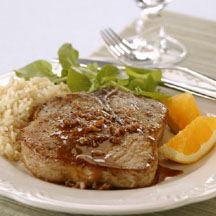 Ingredients
6 boneless pork center loin chops, 3/4-inch thick
1/4 teaspoon salt
1/8 teaspoon freshly ground black pepper
1 tablespoon vegetable oil
2 teaspoons finely chopped fresh ginger root
1/3 cup orange juice
3 tablespoon soy sauce
2 tablespoons honey
1 tablespoon Dijon mustard
2 cloves garlic, minced
Fresh sliced oranges
Watercress sprigs

Preparation
Season chops with salt and pepper. Heat oil in large skillet over medium-high heat. Brown chops, 3 to 4 minutes per side.

In small bowl, stir together ginger root, orange juice, soy sauce, honey, mustard and garlic. Pour ginger mixture over chops. Simmer, covered, 8 to 10 minutes or until chops are tender.

Place cooked chops on serving plate; spoon 1/2 of orange-mustard sauce over pork. Garnish with orange slices and watercress. Pass remaining sauce.